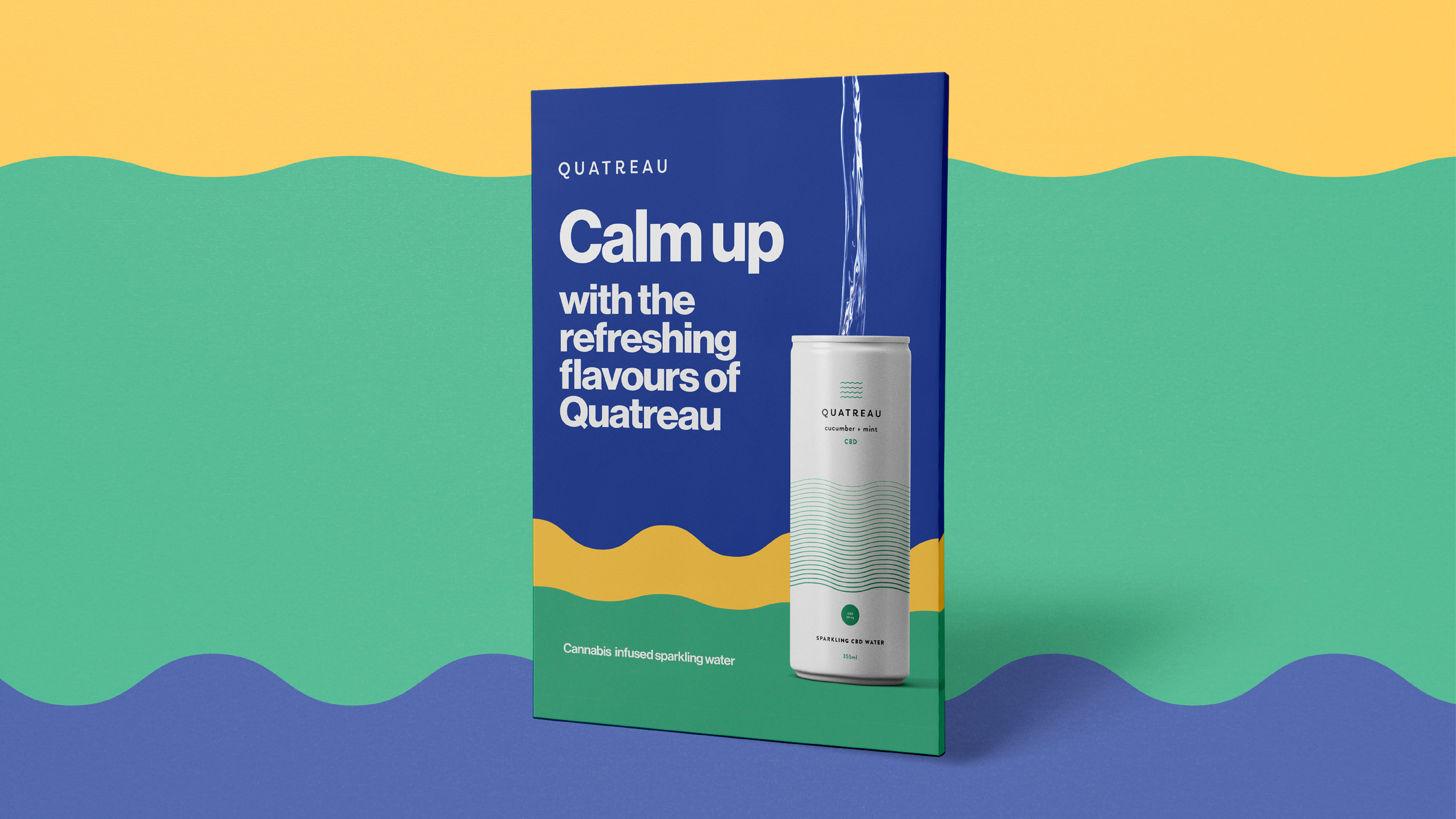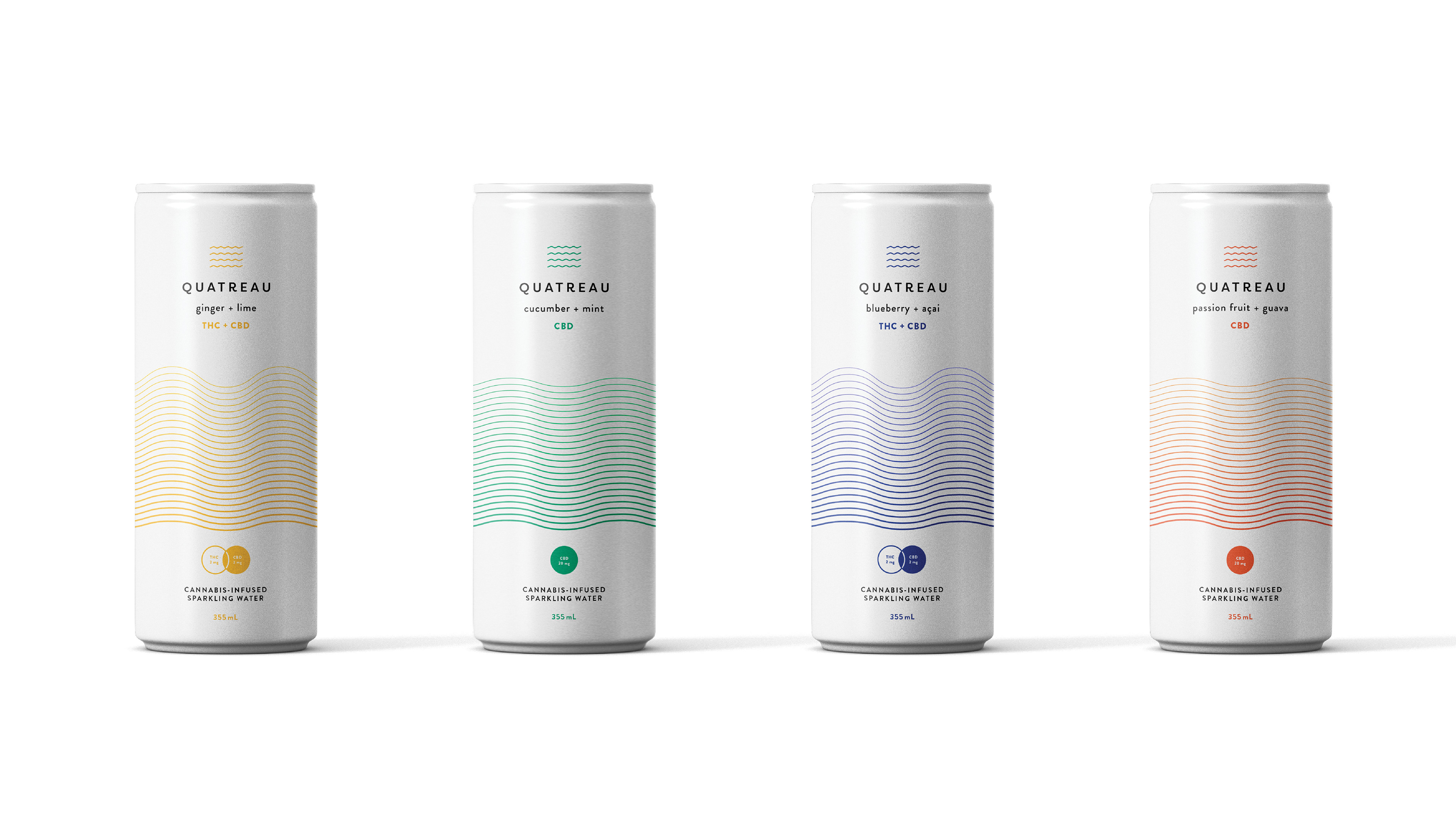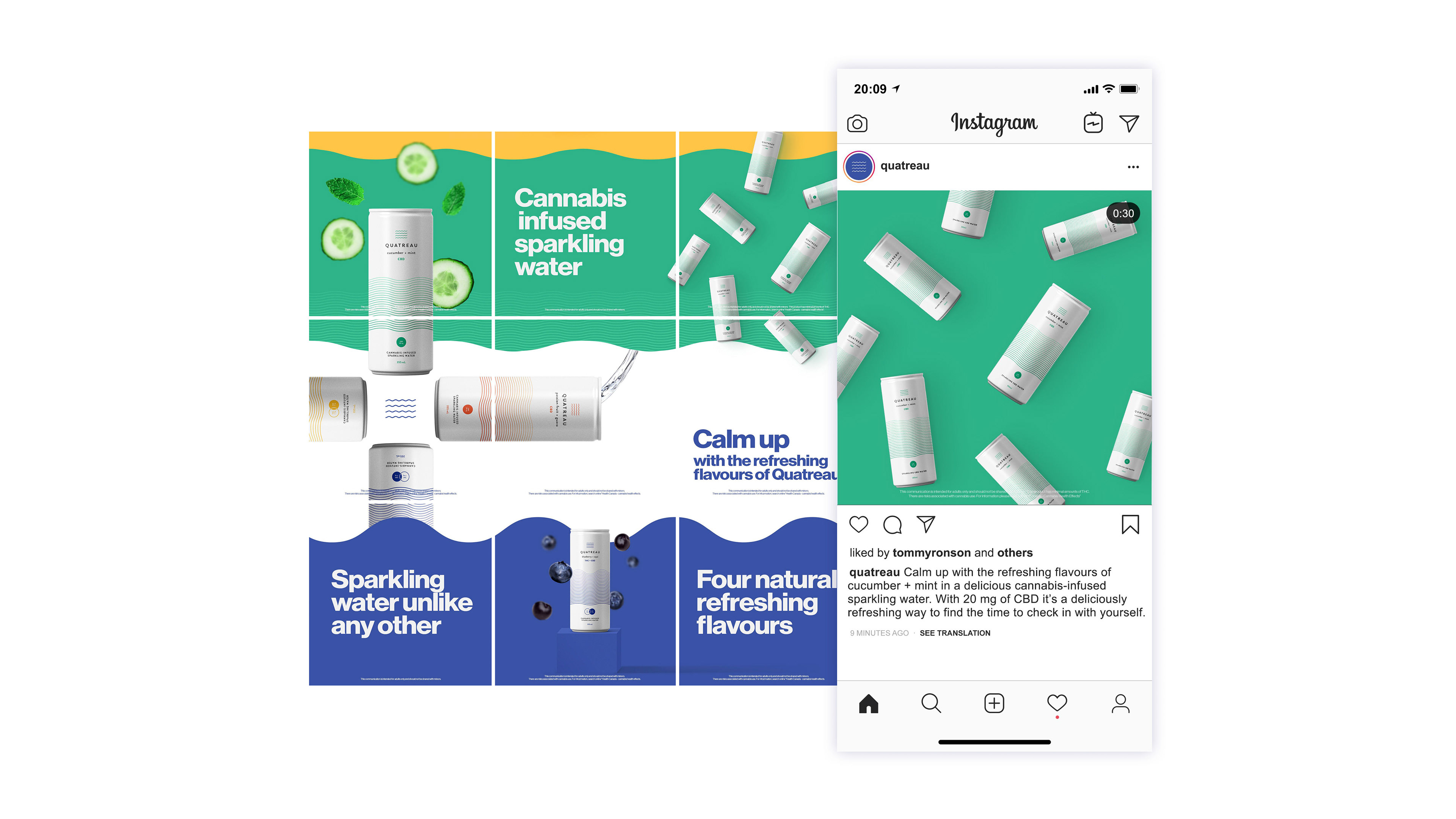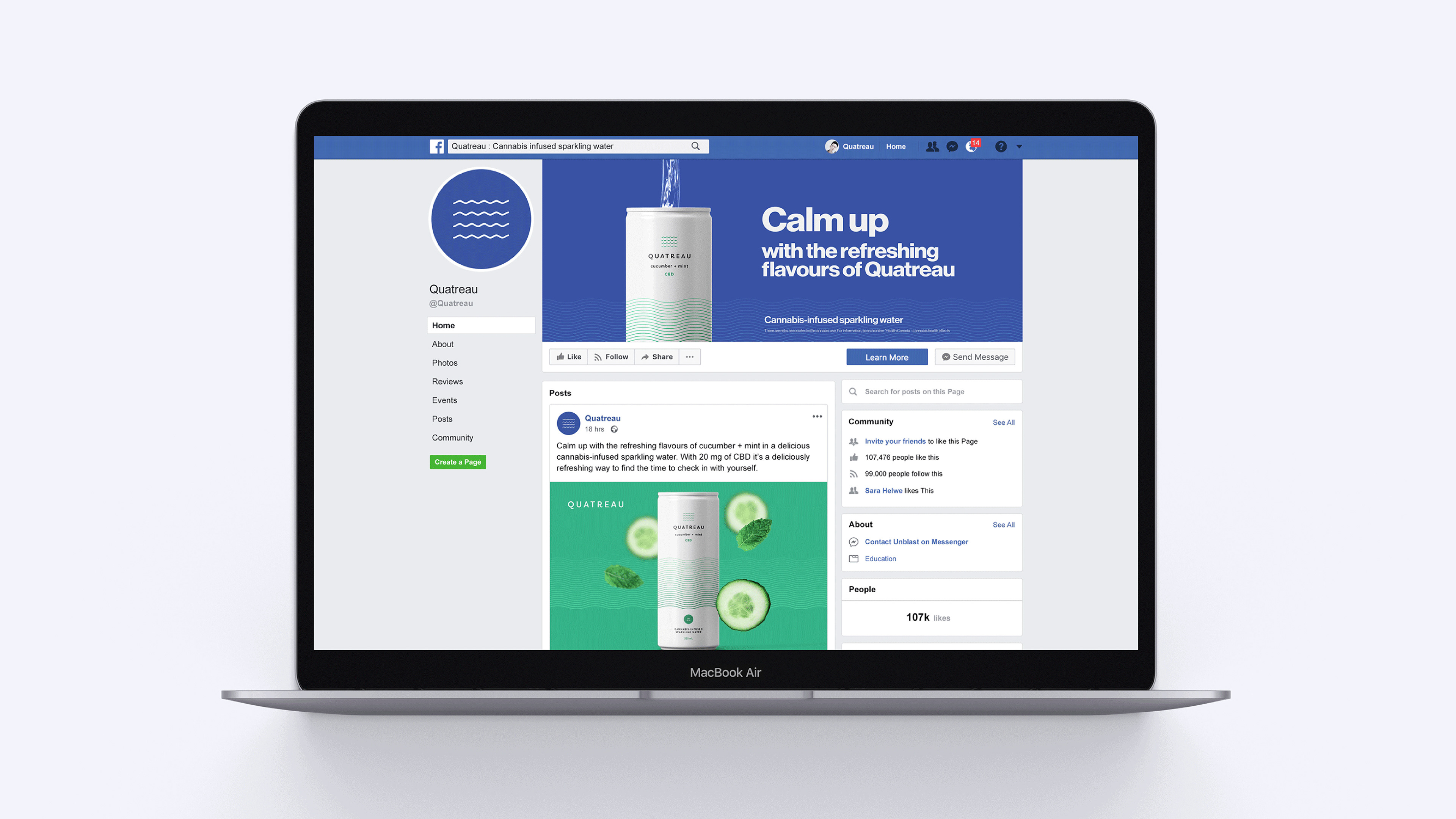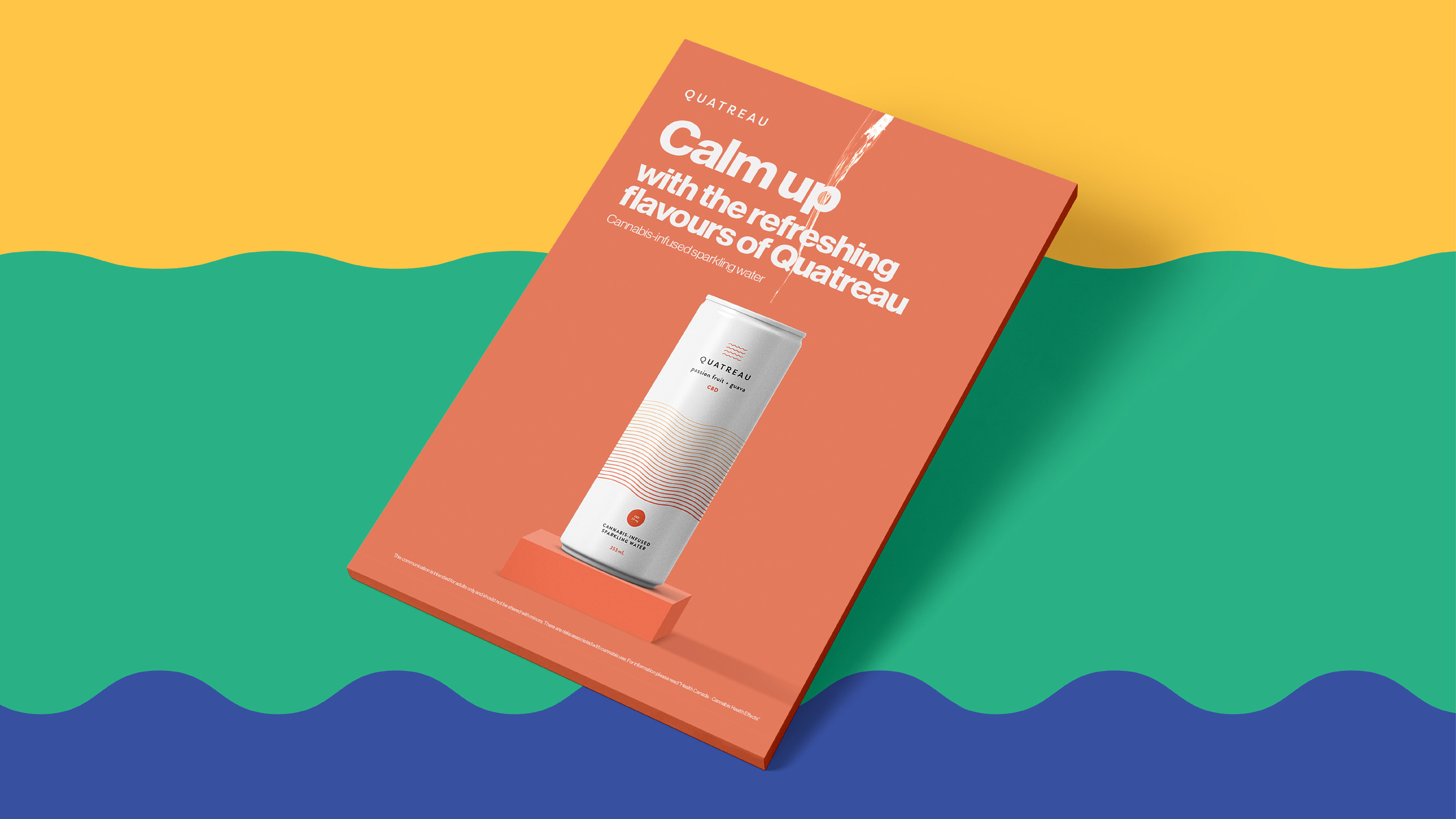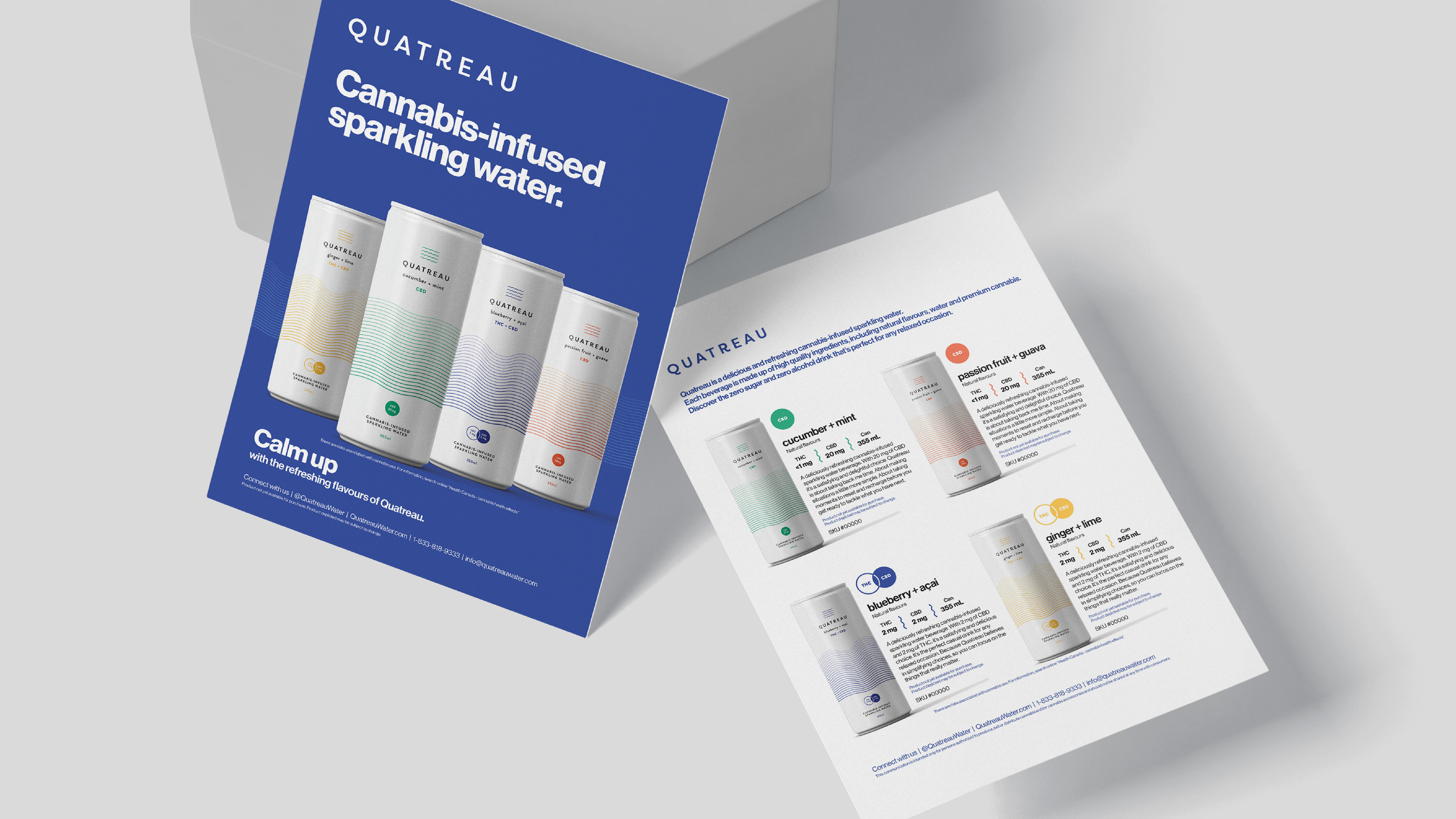 Quatreau Cannabis-Infused Sparkling Water
I was hired by Canopy Growth Corporation to build and lead their in-house creative team focused on recreational cannabis brands. Our team built holistic brands and go-to-market campaigns for innovative and emerging consumer products, including Quatreau—a family of THC/CBD and CBD-only sparkling water beverages.  
METHOD
To better understand cannabis beverages as a product, I attended the Cannabis Drinks Expo in San Francisco, to research and understand a market where cannabis drinks are tried, tested and true. How does this industry deliver its message in the US? How do the beverages compare? What seems to work, and what does not? This research was invaluable to better understand the market as a whole. 
In working for Canopy, I was given an education in cannabis. Literally, your onboarding includes a 2-day course in cannabis. Understanding the plant inside and out is integral to how we communicate its value. We also had access to the innovation team—those who invented this beverage, as well as access to visit the plant where the beverages are produced. Though these might not become story lines to the Quatreau brand, it's important to fully understand how this product came to be. In this knowledge, may exist a greater idea. Finally, we partnered with the strategy team at Cossette, to help identify our place in the market. This level of research and analysis was invaluable in defining who exactly this product was speaking to, and what it could be compared to. This was a new product, in a new market, and there were several unknowns.
PROCESS
The initial thinking process for Quatreau was done by Rain43, an external agency, before I arrived at Canopy. I was presented with a logo and some loose package concepts. First, we needed to tighten up the logo. Literally. The wavy icon had generous space between it and the wordmark. With cannabis packaging in Canada today, the THC stop sign icon must be sized to match the logo. The bigger the logo, the bigger that stop sign gets. This is based on the perimeter size of the logo—so a spaced out logo can feel small and become over dominated. It was also thin, which would create printing issues. We added some weight and tightened it up.

The concept for our package was to play with the idea of waves, in a way that was soothing, simple and clean. With a THC/CBD and CBD-only offering, we could play with the waves to subtly speak to an effect. THC/CBD may give you a spike in emotion, where the CBD-only version may feel mellow and relax. The main brand colours were blue (aqua) and white (clean), and supporting colours reflected the unique flavour profile while working together beautifully as a family of brand colours. This entire process took over a year, and on-top of my 10 person creative team, required the additional support of external agencies. I saw my job as the creative lead to keep the entire brand feeling cohesive, as different teams worked on it in tandem. There were often changes—delivery dates, product shifts, our hero skew—so it was important to be up-to-speed and informed, and to guide my team and the brand safely through.  It was important to me that all creative parties involved feel informed, involved and inspired. 
SOLUTION
Quatreau is inspired by the number four, water, and its various forms. The name, Quatreau is a combination of Quattro (four in Italian) and Eau (water in French).  The logo is simply four wavy lines—a symbolic representation of the name Quaterau. Logo colours are based on the flavour of the beverage in which they are placed. Should the logo need to use just one colour, the preference is a cool-water blue. The key graphic element of the brand is the waves. These waves are part of the packaging design and a part of our communication language. The CBD wave is more smooth and relaxed, whereas the THC + CBD wave has a little more rhythm. For our go-to-market campaign, we focused on the tagline: Calm Up, with the refreshing flavours of Quatreau. The attached visual is one of water pouring in reverse. When speaking to a distinct flavour, we see fruits floating and swirling around the beverage. The whole feel should be weightless, and uncomplicated. The whole concept plays with the idea that calm can be your superpower, a force to push through the chaos of your day and get things done. This played into our design display, but also our written communications. 
RESULT
With the right creative teams in place, we created a brand that feels both calm and refreshing, while remaining compliant with tight Canadian legal perimeters. This brand has yet to launch in Canada or the US.
Creative Lead: Taralyn Carver
Art Director: Kyle Skinner
Associate Art Director: Mark VanMoorsel
Copywriter: Marcus Kaulback
Project Manager: Chloe Nosko
Brand Manager: John Myhal / Nick Skotidas
Video Production + Animation: Marks
Retail Collateral: Behaviour
Campaign Strategy: Cossette
SCOPE
Brand Strategy & Positioning
Go-to-Market Campaign Strategy
Packaging Design & Production
Trade Marketing Materials
Social Media Strategy & Content