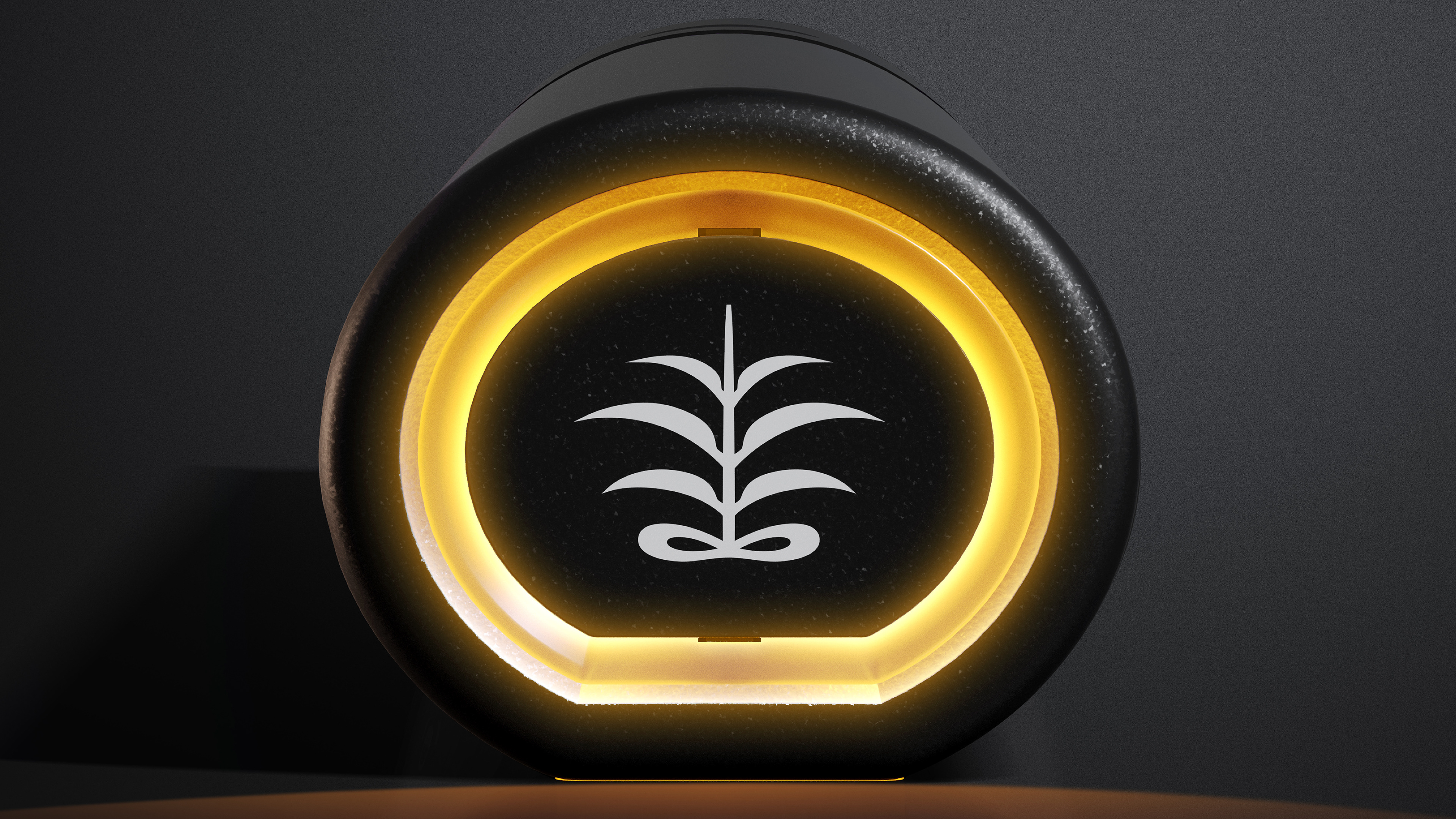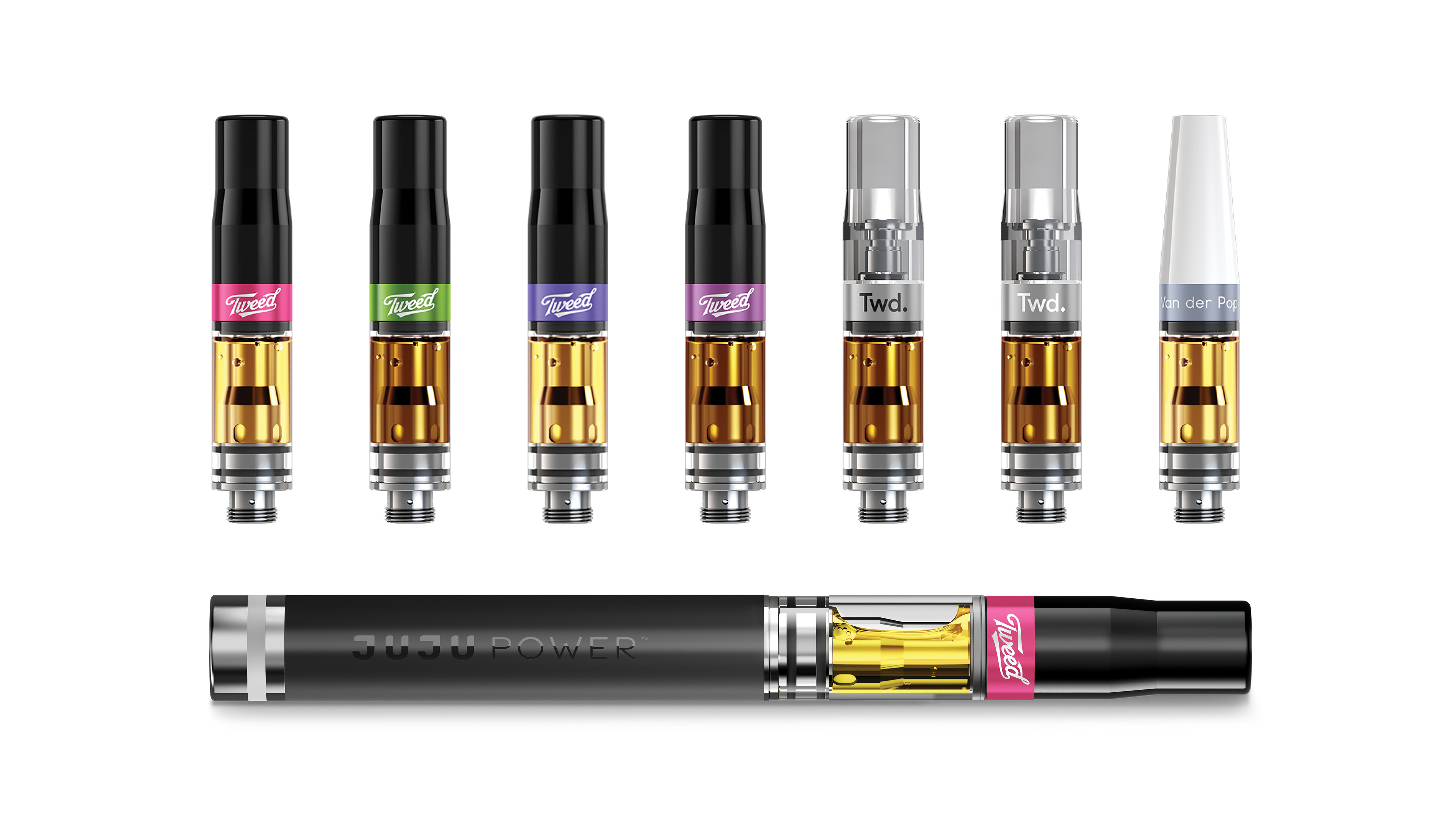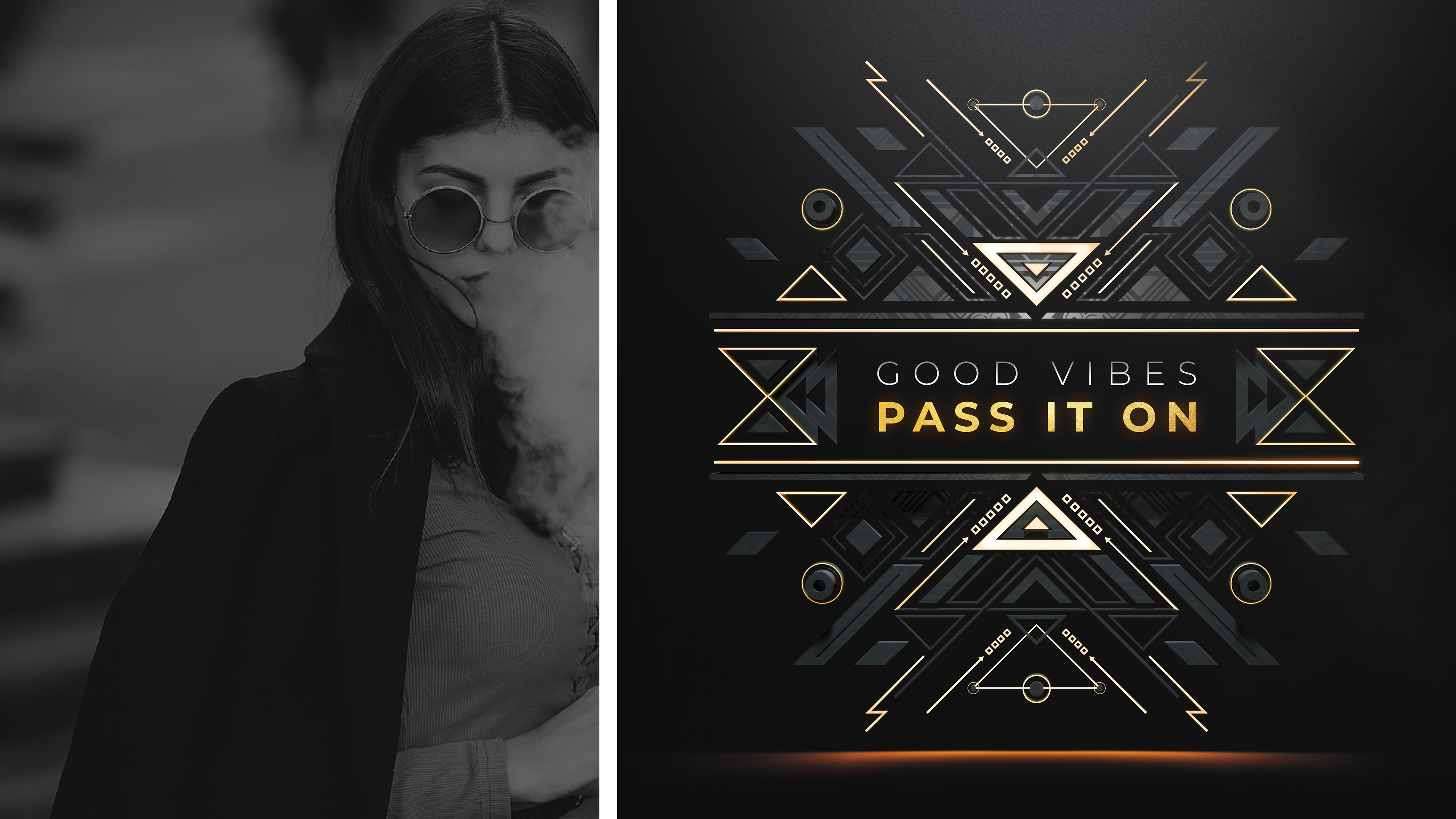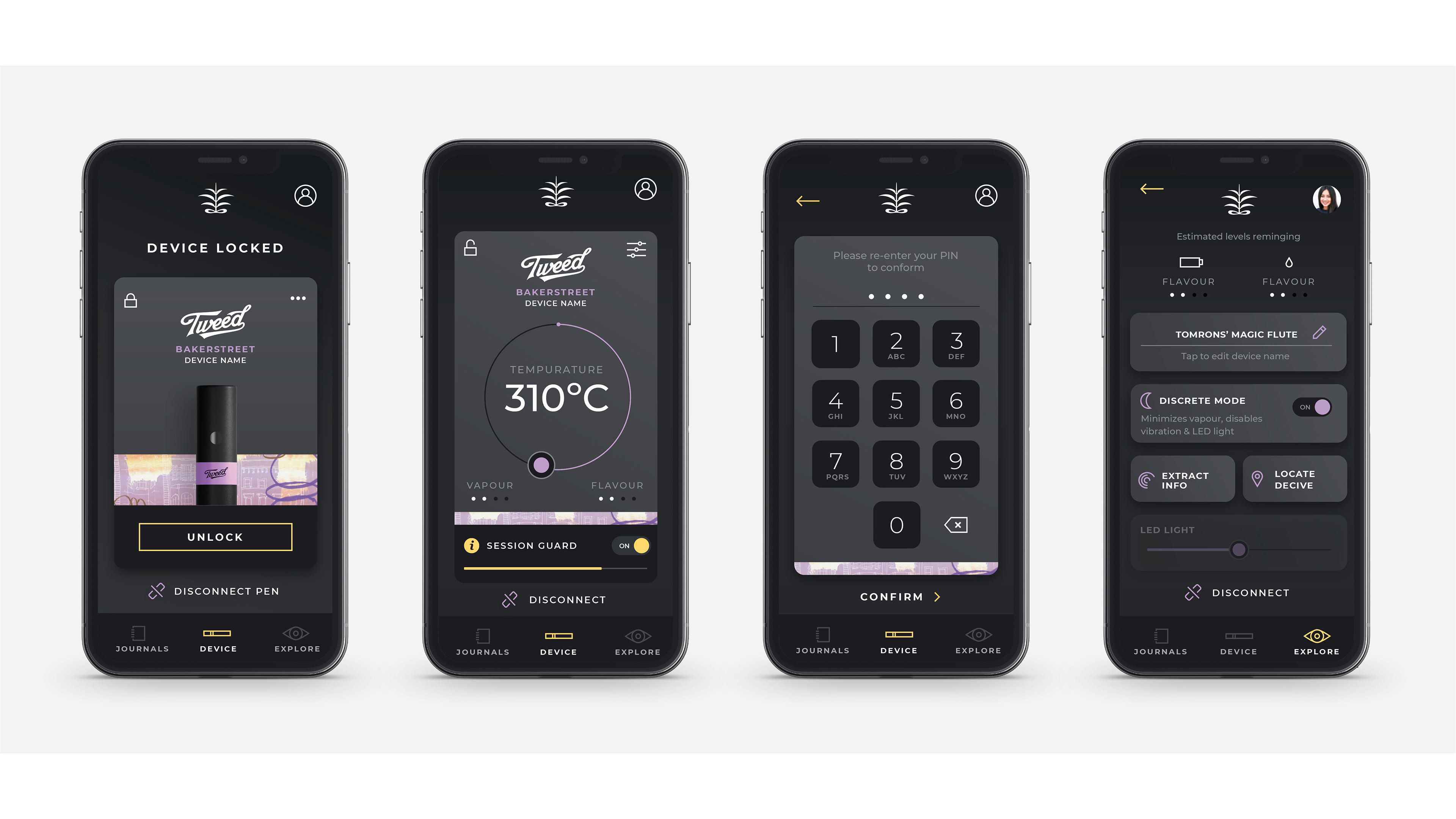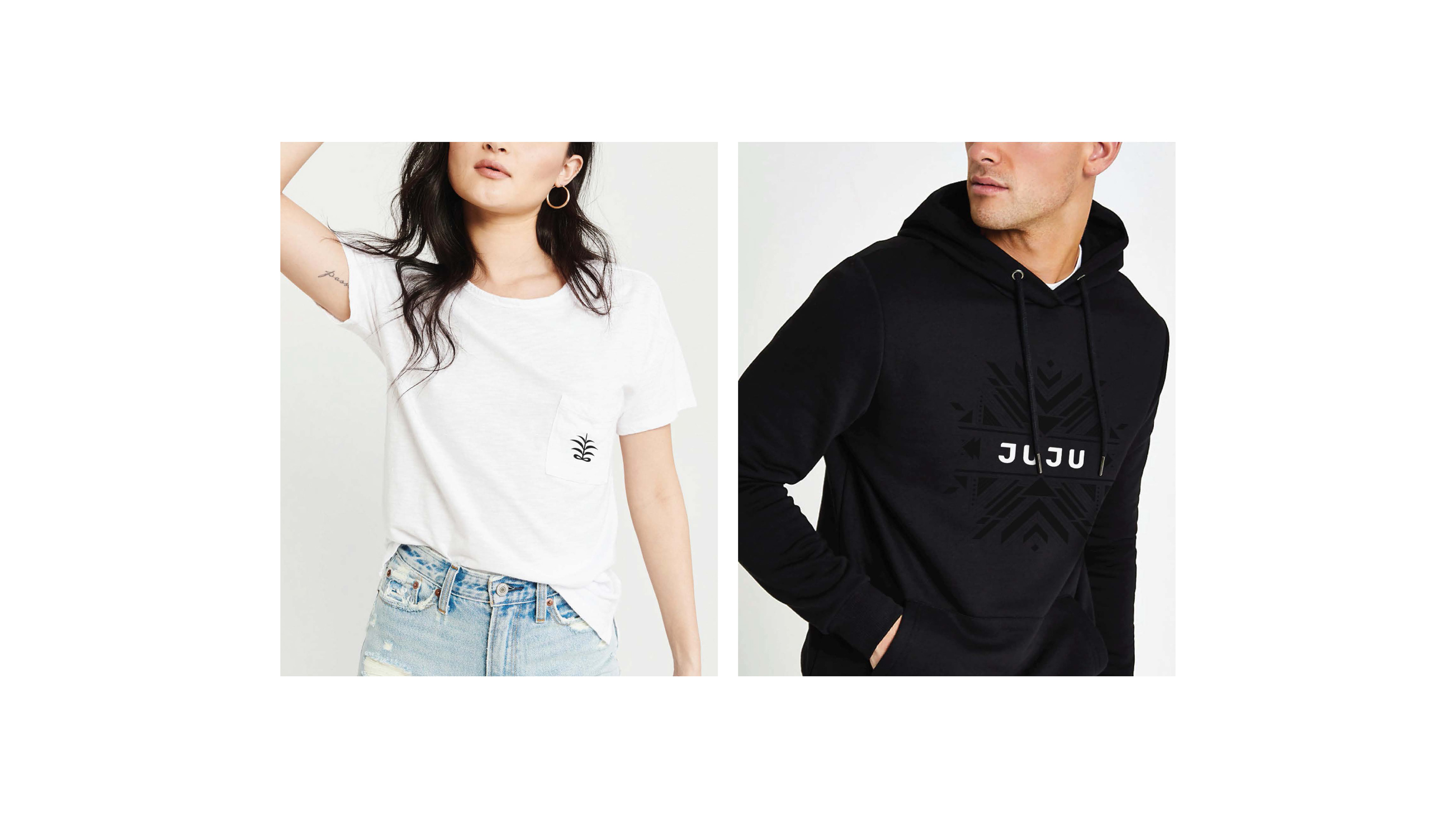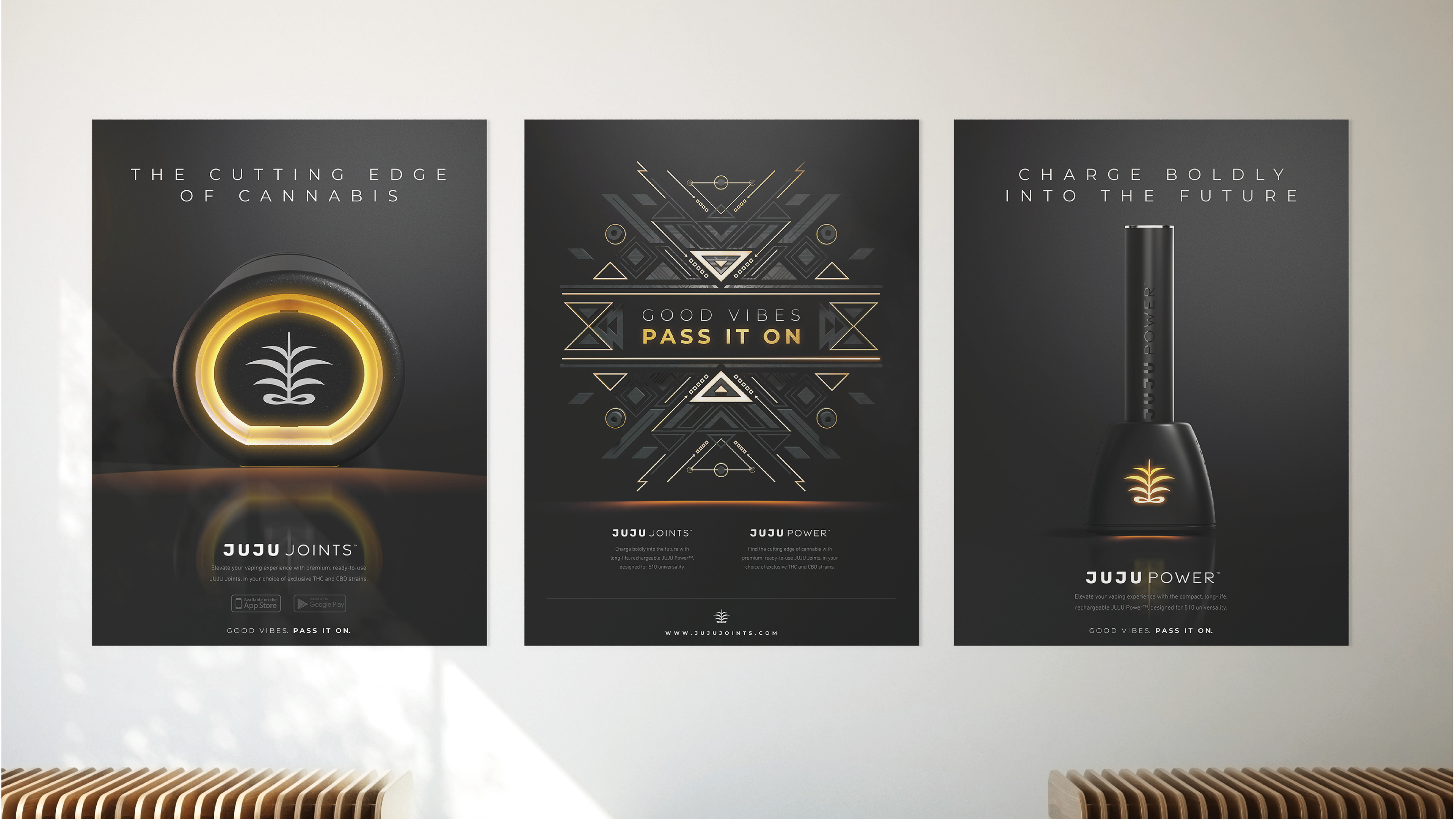 JUJU Cannabis Vape Technology
I was hired by Canopy Growth Corporation to build and lead their in-house creative team focused on recreational cannabis brands. Our team built holistic brands and go-to-market campaigns for innovative and emerging products, including JUJU vape technologies. 
JUJU Joints were an existing brand, purchased by Canopy, and reinvented for a more modern market. The brand had some clout, so the name and logo were to remain, though the logo did require some refreshing. The JUJU Joints family of products includes a disposable vape pen called JUJU Joints, a vape battery called JUJU Power and 510 vape cartridges.  
METHOD
To understand the features and benefits of the products, our team was able to interview the engineers working to create these products. It was important to explore and understand the consumer culture and appeal behind this product. Through user stories, and hours of research, we were able to better understand why consumers chose vapes over other methods of cannabis consumption, and how they created habits and rituals for themselves with their vapes. Part of my discovery here was cleanliness—consumers tended to prefer the clean and easy experience of vaping—an element we carried into our design approach. Another step of this journey was to understand the brand as it had previously existed. What was worth keeping, and what needed to be updated. 
PROCESS
We started by modernizing the JUJU Joints logo, and creating a family of logos for the product line. From here, we explored a new colour palette. The JUJU brand needed to work on its own, but also house several other brand systems. JUJU was the technology that housed cannabis. The cannabis strains were from separate brands (for example: Tweed, TWD, Houseplant...). Therefore, we went for a clean, simple colour approach for JUJU, which, with gold accents, sat proudly by itself—but could visually support the vibrant palette of numerous other brands. Since the package design needed to be printed and produced, this was next to be created. We wanted to create a bold, edgy and mystic feeling pattern design. With our intense primary black, we did a spot colour for the pattern on the box, giving it a gloss look, on an otherwise matte box. To create images of these products, we brought on Armstrong White to create digital renderings, allowing the tiny products to feel larger than life. To put all of these pieces together was a bit of a puzzle, since the legal lines were long and the product offering was complex, and potentially confusing if you were new to this market. A strong balance between visual and copy, and an incredible amount of detail and attention paid to the presentation of copy was made. An overall clean and simple design approach also helped allow communications from feeling overwhelmed. 
SOLUTION
I explain the visual brand experience in 2 elements: Inhale and Exhale To INHALE is to experience the product. In this moment, JUJU leverages black and gold, we focus on product photography, and we use our illustrated patterns and moon cycle. To EXHALE is to experience the lifestyle. When JUJU communicates an experience, we use vibrant colour systems, diverse people, and moving vapour clouds. 
RESULT
Upon launch, and to today, JUJU Power cannabis vape battery is the number one selling product of its kind in Canada. Sadly, the brand is short lived—as the business has decided to no longer produce this product. JUJU Joints will not be launched, and though the 510 carts are moving ahead, they won't be under the JUJU name. 
Creative Lead: Taralyn Carver
Art Director: Kyle Skinner
Copywriter: Marcus Kaulback
Project Manager: Chloe Nosko
Brand Manager: David Tran + Nick Skotidas
Video Production + Animation: Dan Wallace + Will Reid + Craig McCallion
3D Renders + Animation: Armstrong White
Campaign Strategy: Cossette
SCOPE
Brand Strategy & Positioning
Go-to-Market Campaign Strategy
Packaging Design & Production
Social Media Strategy & Content
Trade Marketing Materials
Industrial Design Consultation